Wild Lights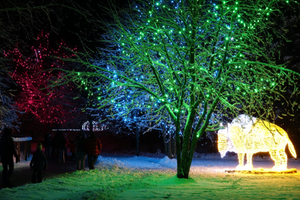 The Zoo is decked out in hundreds of thousands of holiday lights throughtout its 40 acre park.
Online tickets provide the safest and fastest entry for an enjoyable visit to the zoo. Tickets are non-refundable and non-transferable. Visitors can arrive anytime during their arrival session and their visit length is not limited to their arrival session time.
Tickets can be purchased up to 10 days in advance. An additional date is added daily. To help you plan your visit: https//www.moncton.ca/wild-lights
Magnetic Hill Zoo
$11.00
9-December 18, 2021
Magnetic Hill Zoo
Magnetic Hill Zoo

Visitors (ages 12+) must be able to show proof of Covid-19 vaccination or exemption upon entry. Wearing a mask is required in all indoor buildings.