Magnetic Hill Zoo Memberships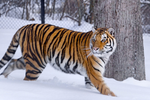 The Magnetic Hill Zoo is Atlantic Canada's leading zoo that educates and inspires conservation action.
Zoo memberships are now available and provide unlimited admission to the Zoo for 12 months from the date of issue, including all special events and fundraisers. Individual membershis are available for all age categories and families can create a personalized family membership based on their needs. Memberships also provide a 15% discount at the Wild Things gift boutique and the Acadian Forest Bistro.
Memberships are non-refundable and non-transferable.
To purchase a membership, please follow the steps below:
1) Visit us at the zoo admission office between the hours of 5 & 9:30pm everyday in December except December 24 & 25th (Zoo is closed). You can also email us at info.zoo@moncton.ca or call us at 506.877.7720 from 3 to 9:30pm.
2) On the website home page, click on the Gift Certificates tab. Select the preferred membership package, add quantity click Add to basket. You will receive a proof of purchase by email once the purchase is completed.
3) The membership gift certificate packages are for up to 4 people. If you wish to add additional member to a membership, please visit us in person, call us at 506.877.7720 or email ud at info.zoo@moncton.ca. We offer discounted rates for additional member after 4 people.
4) Call or visit us at the zoo admission office during opening hours. We required proof of ID, names and dates of birth for each member of the membership. You will need to confirm the date you want your membership to start (within 30 days of the purchase date).
5) You will receive a membership card with the members names, age categories and expiry date.
6) For gifts, we will provide you with a gift certificate exchangeable for the official membership card once the person receiving the gift call or visit the zoo and provides us with the required informations.
Members must provide photo ID and proof of age at the time of purchase and must show their photo ID and membership card upon entry of each visit.
Magnetic Hill Zoo - MEMBERSHIPS 2021-2022
$55.00
10-December 23, 2021
Magnetic Hill Zoo
Magnetic Hill Zoo